Do you like dark elves, deadly intrigues, and shadowy lore?
– So do we!
Therefore, we launched our first Kickstarter campaign in 2019 and created a trilogy of drow adventures set in Eastern Farraway.
To our huge surprise, the campaign was really successful, and the adventures were released in digital format as PDFs.
We're now returning to Secrets of the Drow and are looking for funding so that we can create a physical book with expanded content and more art – packed with exciting adventures, more lore, new monsters, and wicked magical items!
Help us create the most epic book the world has ever seen!
Tove & Erik
at Midnight Tower
Secrets of the Drow Trilogy contains three dangerous dark elf adventures for the fifth edition of the world's largest roleplaying game.
You'll get a book with the following adventures and compendium:
➛ Troubles in Winterhold
➛ Find the Lost Expedition
➛ The Spider Queen's Ritual
➛ The Drÿnaeri's Dark Library with all unlocked stretch goals
➛ Bonus: You'll get a special mention in the book!
We'll also include a free VTT pack with tokens, gridless maps, and digital handouts so that the adventures can easily be played online.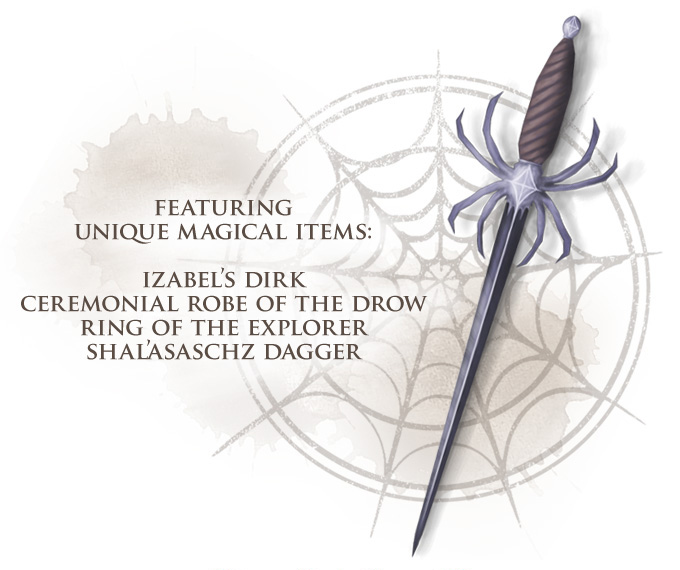 Secrets of the Drow Trilogy will be approximately 160 pages if all stretch goals are unlocked, and available in hardcover, softcover, and digital format.
The adventures are designed for characters of level 4 to 6, but include scalable encounters to suit any level from 1 to 20.
The compendium The Drÿnaeri's Dark Library will contain new monsters, magical items, spells, and more. It will also feature unlocked stretch goals and be available to all backers.

The isolated mountain town of Winterhold is under threat.
Dark elves are raiding nearby villages, burning farms, and kidnapping innocents.

But why have the attacks increased so dramatically? And how come the devious drow are always one step ahead of the game?

Deep in the caverns below Winterhold, the leader of the dark elves, Shade Drez'lyn, weaves a web of nefarious plans and plots. Her mysterious goal is soon within reach.
And unless she is stopped, it will be the end of Winterhold.
~ Sharpen your blades. Nock your arrows. Ready your spells. ~
Are you the heroes Winterhold have been waiting for?

➛ Three dark elf adventures with intriguing quests, lore, and magical treasures!
➛ Approximately 160 pages of content (if all stretch goals are unlocked)
➛Professional commissioned cover art by Alaina Milare (The Prophecy of Nine Omens Trilogy, Before the Stroke of Midnight, Empyrean Investigations)
➛ Concept art of Gloomheart, two-pages full spread, by Daniel Kvasznicza (Elder Scrolls, Diablo, Assassin's Creed)
➛ New monsters: Fellstalker, Drow enchanter, Drow mounted guard, and Drow ritual zealot
➛ Nine detailed NPCs with personal background descriptions, including traits, ideals, bonds, and flaws – now fully illustrated for the first time!
➛ Unique magical items such as Ring of the Explorer, Izabel's Dirk, Shal'asaschz Dagger, and Ceremonial Robe of the Drow
➛ More than 90 full-colour illustrations and original artworks, including professional commissions
➛ Legend & Lore: The history of Winterhold, the threat from below, and the blood ritual (Tar'zael Gash Nar-haul)
➛ New and updated high-quality maps, including a new version of Gloomheart by cartographer Toby Lancaster from Dark Realm Maps
➛ The Drÿnaeri's Dark Library featuring all unlocked stretch goals and more
➛ VTT pack with tokens, gridless maps, and digital handouts for online gaming
➛ Bonus: Your name will be featured in the book! (Instant immortality unlocked!)